Stairlifts & Lifts
Thinking of a Lift or Stairlift?
Are you concerned at the thought of being confined to the ground floor of your home because you find the stairs difficult to manage? The solution could be a stairlift or home lift. They both enable you to get up and down stairs quickly and easily, so you can carry on using the whole house and stay in the home you love.
Why not talk it over with us?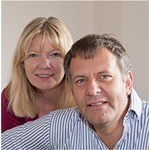 If you are thinking of a stairlift or home lift, but aren't ready to have a sales rep come and visit, why not talk to us? We are partners with Acorn Stairlifts and Stiltz Home Lifts, the two leading firms in their respective fields.
With our background in Occupational Therapy, we are well placed to offer you knowledgeable, impartial advice, free of charge. A lift is not right for everyone, and we can help you make the right decision. If we think you would be better off without a lift, we'll tell you.
Call us on 01353 66 77 22 for friendly, helpful advice
Over the years we have helped dozens of people like you, and have many glowing thank-you letters from customers. Typical questions we get asked are:
Which is better, a home lift or a stairlift?
When is the best time to have a lift or stairlift fitted?
Is my home suitable for a lift or stairlift?
What should I look for in a stairlift to make the right choice?
Whatever your question about lifts or stairlifts, we're here to help, just call on 01353 66 77 22.
About Home Lifts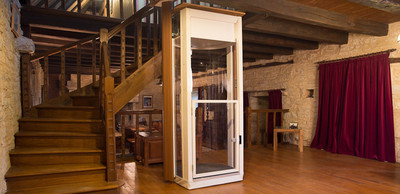 Home Lifts are a comfortable, secure and dignified way to travel up and down stairs.
To use you simply step in and push a button.
The lift is also handy for transporting items from one floor to another such as a tray of food or a basket of laundry.
Some home lifts are large enough to accommodate a wheelchair.
Aesthetically, Home Lifts are unobtrusive and do not interfere with the look of your home as they are almost invisible when not in the room.
Typically a home lift takes up to 8 weeks from when you place the order, and needs two days to install in your home.

About Stiltz Home Lifts
Stiltz is a real, through-floor lift that is specially designed for home use. Invented in Australia in 2004, we first saw Stiltz in use when one of our parents decided to buy one for their home. We were so impressed we decided to become official partners.
Stiltz uses a unique side-rail system to allow a lift to be installed in almost any domestic house without major building works. That's because the rails bear all the weight – and take up virtually no room in your home.
Quiet, smooth and packed with safety features, a Stiltz Lift takes just 30 seconds to transport you effortlessly from one floor to another.
Call us now to find out more Stiltz Home Lifts on 01353 66 77 22 or send this form and we'll ring you.
About Stairlifts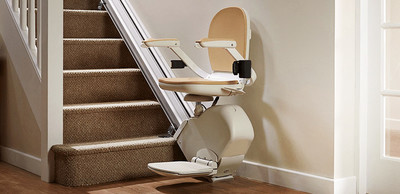 Stairlifts are a practical and cost-effective way to get up and down stairs. A track is fixed to the treads of your staircase. To use you sit on the chair as it moves along the track.
The price of a stairlift depends on the type of staircase you have. A straight flight of stairs is easy to install, but if your staircase has turns or corners a curved rail is required which adds to the cost.
Stairlifts do affect the look of your home as the rail and chair is always visible, although the seat can fold up to allow access to walk up the stairs.
Typically a stairlift can be installed within days, and takes less than a day to be fitted in your home.

About Acorn Stairlifts
Acorn is the world's best selling stairlift. A family-owned British company, they have their own sales team and can offer you a free home trial. We have partnered with Acorn for over eight years, and have dozens of testimonials from delighted customers.
In a survey by Which (Nov 2014), Acorn was rated equal to or better than two other leading brands for Reliability, Usability, Comfort and Quality. Acorn was also reported to have the lowest average price.
Acorn is also the only stairlift company awarded the prestigious Ease-of-Use Commendation from the Arthritis Foundation.
Call us now to find out more about Acorn Stairlifts on 01353 66 77 22 or send this form and we'll ring you.
Any Acorn Stairlift purchased through Independence Ltd. will earn 15,000 Reward Points (worth £150) providing you have not contacted Acorn Stairlifts or another Acorn Partner on a previous occasion.
Reward Points can be used as payment towards any subsequent order(s) from Independence Ltd.